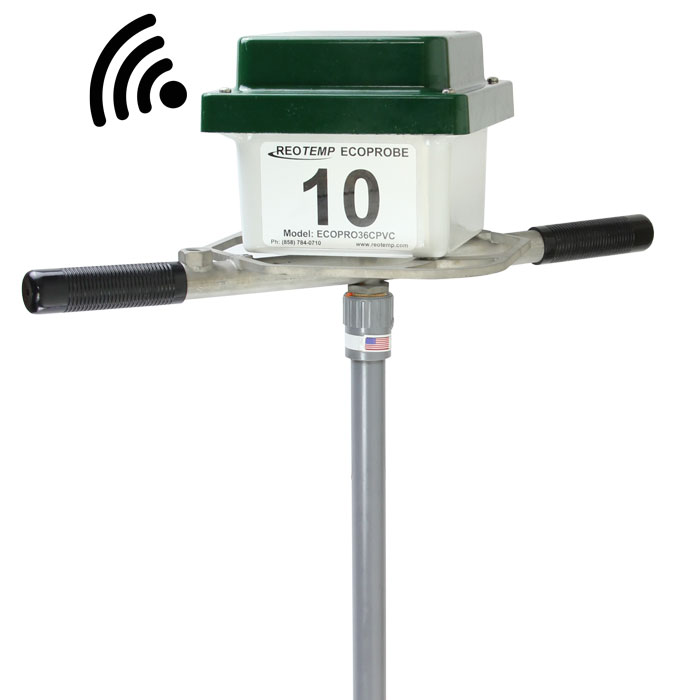 REOTEMP ECOPROBE™ WIRELESS COMPOST TEMPERATURE MONITORING SYSTEM
The Most Durable & Reliable Wireless System


REOTEMP's EcoProbe™ System wirelessly monitors the internal temperature of your compost piles. With over 20 years in the compost industry, REOTEMP has used its experience to design and build the most durable and reliable system on the market. The EcoProbe System reduces labor costs while increasing efficiency, product quality, and operational control. When you invest in an EcoProbe System, you ensure years of hassle-free monitoring and regulatory compliance.
Triple Sealed Enclosure (Super Duty): Compost may seem like a fairly harmless media but in reality it's a very harsh and corrosive environment. REOTEMP's EcoProbes are built to last. Our unique enclosure helps probes withstand the demanding wear of a compost site. Wireless probes are subjected to large changes in temperature and (if outdoors) exposed to the weather. An improperly sealed enclosure is prone to open over time, allowing moisture and corrosive atmospheric gases to damage electronic components.
Corrosion Resistant Stem: When stainless steel stems are left in compost for days or weeks at a time, they are very likely to corrode and pit. In a few months, this corrosion can eat all the way through the stem and cause probe failure. To prevent this corrosion, REOTEMP has designed a unique non-metal sheath which completely encases the inner stainless steel stem. Our design prevents corrosion, while maintaining proper heat transfer.
Customized Wireless Technology: REOTEMP partnered with a trusted wireless company to create a reliable wireless system designed specifically for large compost sites. Utilizing our partner's 20 years of wireless design experience in locomotives, cranes, construction vehicles, and military vehicles allowed REOTEMP to develop the most reliable wireless system on the market. Our current wireless system uses custom designed radio modules and receivers, as well as site-specific antennas and the 902-928 MHz frequency. All of these components make the REOTEMP wireless system far more reliable than "off the shelf" systems some competitive probe manufacturers use.
Roll Cage: Our stainless steel roll cage helps protect the enclosure from the bumps and bruises that come with the real world wear and tear at an industrial compost facility. It's one of many design features that result in the most durable wireless probe on the market.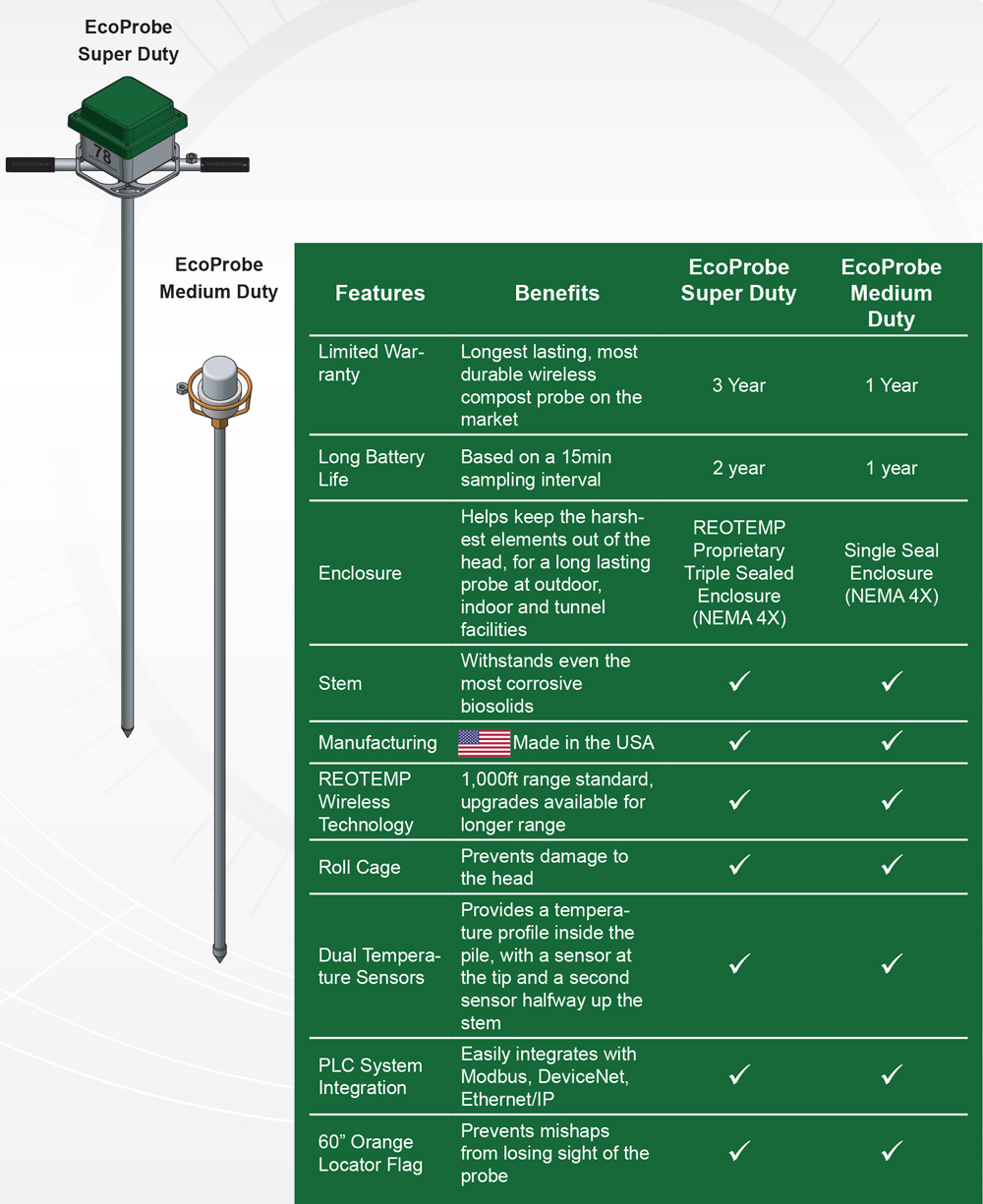 EcoProbe™ Reciever/Antenna
REOTEMP's EcoProbe™ System is customized to meet your facilities unique needs. REOTEMP's proprietary wireless system can be customized to increase transmitting power for even the largest of facilities.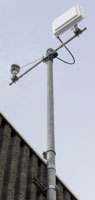 Each facility has its own unique layout and setup, which means we'll need to customize the antenna we use to fit your needs. On any application, we use only high quality antennas that are above and beyond what is needed. This ensures you'll have consistent readings. It also accounts for the occasional interference typically found on composting sites (large equipment driving between probes and the receiver antenna, probes at various angles, etc.).
REOTEMP's Terminal Receiver organizes data packets from EcoProbes located in the field. Typically, the receiver is mounted to an internal wall of the control building. The Receiver is either hardwired into the PLC or wirelessly transmits its data to a personal computer. Depending on your facility needs you choose either a PLC or PC system option.

EcoProbe™ PLC & PC Software
For PLC systems, REOTEMP partners with a 3rd party to create and customize HMI software to your facility. For PC systems, REOTEMP offers  windows-based software called Compost Watch™.
Compost Watch™
Displays live temperature readings as they come in from the radio link.
A log history of the readings: history can be viewed graphically or exported into standard Windows applications such as Excel.
Support: Unlimited phone support. We stand behind our products.
Data range selector with quickset or custom date ranges.
Low & High temperature alarms & warnings
Online/Offline indicator light
Battery status indicator light
Temperature Chart
Temperature Table
Remote access from network computers or via the internet available.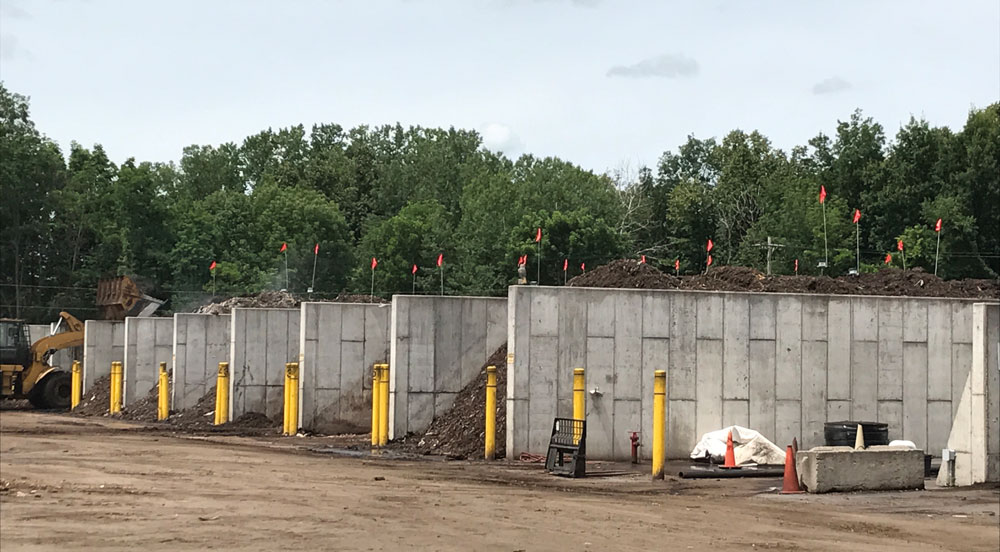 Features
Benefits
EcoProbe Super Duty
EcoProbe Medium Duty
Limited Warranty
Longest lasting, most durable wireless compost probe on the market
3 Year
1 Year
Long Battery Life
Based on a 15min sampling interval
2 year
1 year
Enclosure
Helps keep the harshest elements out of the head, for a long lasting probe at outdoor, indoor and tunnel facilities
REOTEMP Proprietary Triple Sealed Enclosure (NEMA 4X)
Single Seal Enclosure (NEMA 4X)
Stem
Withstands even the most corrosive
biosolids

Manufacturing
Made in the USA

REOTEMP Wireless Technology
1,000ft range standard, upgrades available for longer range

Roll Cage
Prevents damage to the head

Dual Temperature Sensors
Provides a temperature profile inside the pile, with a sensor at the tip and a second sensor halfway up the stem

PLC System Integration
Easily integrates with Modbus, DeviceNet, Ethernet/IP

60" Orange Locator Flag
Prevents mishaps from losing sight of the probe