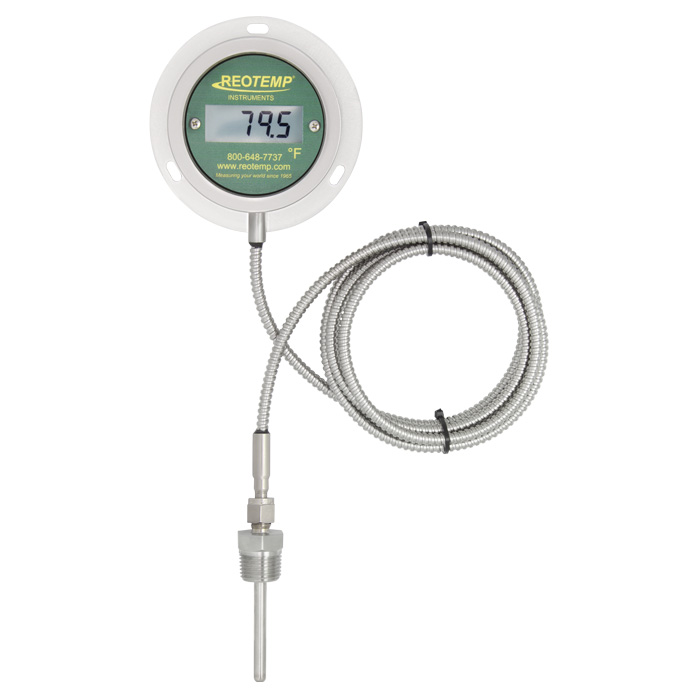 DIGITAL REMOTE READING THERMOMETER WITH THREADED CONNECTION
REOTEMP's Digital Remote Reading Thermometer is a high accuracy thermometer with digital display. It features an IP67/NEMA 4X enclosure and a 5 year battery life. The Digital Remote Reading Thermometer is perfect for a variety of markets and applications where a high accuracy digital readout is required.
High Accuracy 1,000Ω RTD (Class A)
Water Resistant IP67/NEMA 4X
5 Year Battery Life
4-20 mA Output Available
Low or High Temperature Range Models
Sensing Element
RTD, Type Pt1000Ω, Class A
Temperature Ranges
-58°F to 392°F (-50°C to 200°C) or -328°F to 1112°F (-200°C to 600°C)
Accuracy
± ( 0.72 + 0.002 x |t-32|) °F,
± ( 0.42 + 0.002 x |t|) °C, where t = temperature.
Example: At 32°F accuracy is ± 0.72 °F.
Output (Optional)
4-20 mA, M12 Connector
Refresh Rate
3 Seconds
Display
4-digit LCD, 1/2" Height
Display Resolution
See Table 1
RFI Effect
1% or Less Typical
Temperature Effect
<0.01% FS/°C
Ambient Temperature Range
32°F to 122°F (0°C to 50°C)
Storage Temperature Range
-4°F to 158°F (-20°C to 70°C)
Housing Material
Stainless Steel 316
Lens
Plastic Polycarbonate (Standard) or Glass
Probe Material
304 Stainless Steel
Weight
12 oz., Varies by Configuration
Environmental Protection
NEMA 4X/IP67
Power
1 x 3.6V AA Batteries
Battery Life
5 Years Minimum in Continuous Mode
Electronic Display Temperature Limit
If the temperature of the electronics in the display housing exceeds 122°F (50°C), permanent damage to the display will occur. A remote mount is recommended for high temperature applications.
Table 1: Display Resolution
Model
Range
Viewable Range
Low Temp,
Displays Decimal
-58°F to 392°F
(-50C to 200C )
-58.0 to 392.0
High Temp,
No Decimal
-328°F to 1112°F
(-200°C to 600°C)
-328 to 1112