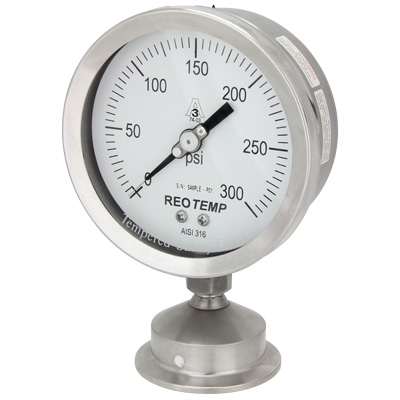 SANITARY PRESSURE GAUGE FOR BREWING
REOTEMP's Series SG20/25/35 sanitary gauges are specially designed to exceed the demanding safety requirements of the brewing, food, dairy, beverage, pharmaceutical, and biotech applications. All REOTEMP SG series come standard with 3-A certification included.
Quick Connect Tri-Clamp® Design
Fast Removal and Installation of Instruments, to Allow Flushing or Changing the Process Media
Ideal for Clean-in-Place, or Equipment Washdown
Exceeds 3-A Sanitary Standards
Comes Standard with 3-A Certification
All Welded 316SS Tube, Socket, Seal, and Diaphragm
ASME B40.100 Design
Non Wetted Materials
Case: 304SS
Dial: White Aluminum, Black Letters
Wetted Materials
Body: 316SS
Internal Parts: 316SS
Wetted Surface Finish: 18-24 Ra
Temperature Limits
Ambient
-40°F to 130°F
Process
-40°F to 200°F
Process When Assembled with a Diaphragm Seal
Direct Mount:-40°F to 200°F
Remote Mount:-100°F to 750°F
Accuracy
1.5″ Tri-Clamp and Larger 
+/-1.5% for 100 psi and Above
+/-2% for Vacuum, Compound and <100 psi
3/4″ Tri-Clamp 
+/-2.5% Upscale
+/-4% Downscale
Fillable
Yes, All Models Except SG20
Max Working Pressure
Stable = 100% of Scale
Momentary = 130% of Scale
Note
Tri-Clamp® is a registered trademark of Alpha Laval Inc.