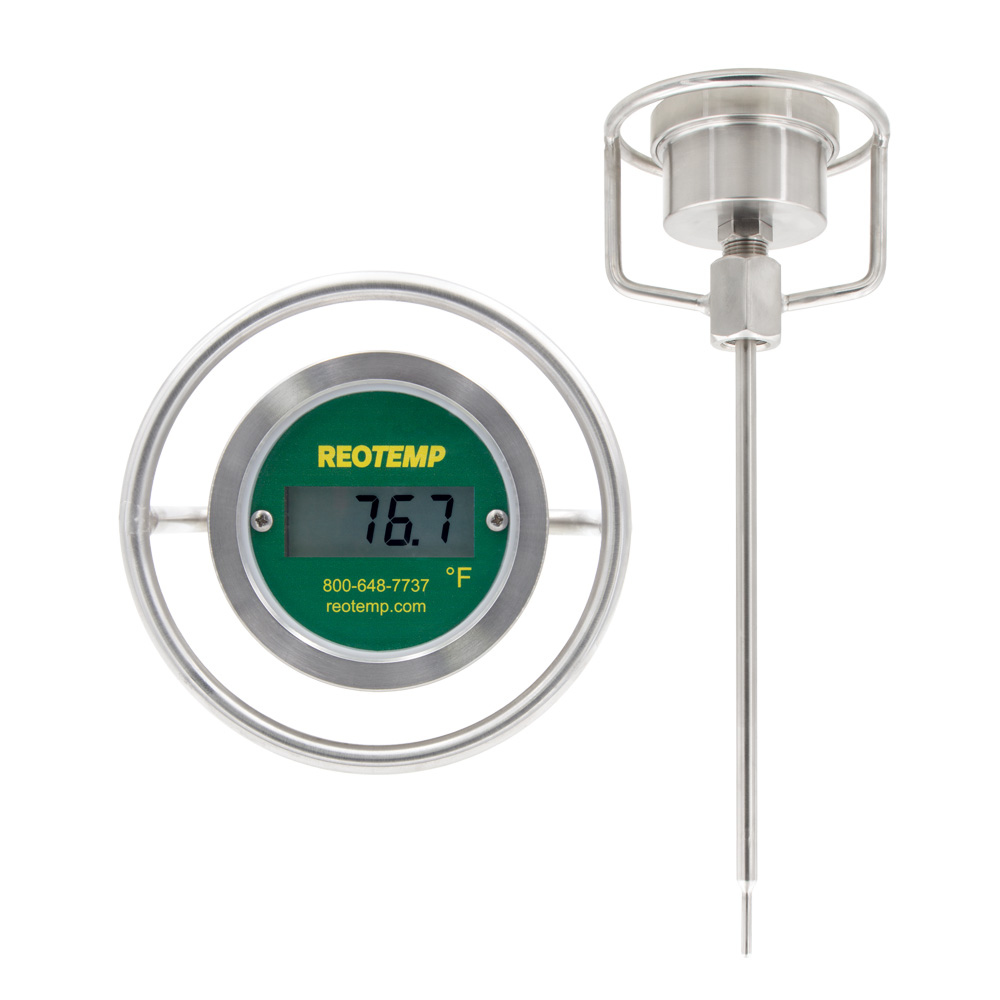 HANDHELD DIGITAL THERMOMETER
The Reotemp Handheld Digital Thermometer is a multi-purpose high accuracy thermometer used to spot check various process media commonly found in the brewing and food & beverage industries. The Digital Handheld Thermometer features rugged all stainless steel construction and a built-in handle for ease of handling and extra protection.
3" Dial with Plastic Lens
Easy to Read 4 Digit LCD Display with Decimal Point
High Accuracy Class A RTD
Water Resistant IP67/NEMA 4X
Rugged All Stainless Steel Construction
Fast Response Stem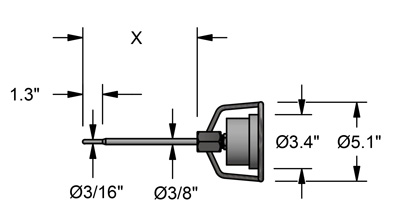 It works great, we are nailing our mash temps every time now. Works exactly as advertised.
| | |
| --- | --- |
| Accuracy | ± ( 0.72 + 0.002 x | t-32 | ) °F,± ( 0.42 + 0.002 x | t | ) °C, where t = temperature. Example: At 32°F accuracy is ± 0.72 °F. |
| Sensing Element | RTD, Type Pt1000Ω, Class A |
| Temperature Ranges | -58°F to 392°F (-50°C to 200°C) or -328°F to 1112°F (-200°C to 600°C) |
| Output (Optional) | 4-20 mA, M12 Connector |
| Refresh Rate | 3 Seconds |
| Display | 4-digit LCD, 1/2" Height |
| Display Resolution | See Table 1 |
| RFI Effect | 1% or Less Typical |
| Temperature Effect | <0.01% FS/°C |
| Ambient Temperature Range | 32°F to 122°F (0°C to 50°C) |
| Storage Temperature Range | -4°F to 158°F (-20°C to 70°C) |
| Housing Material | Stainless Steel 316 |
| Lens | Plastic Polycarbonate (Standard) or Glass |
| Probe Material | 304 Stainless Steel |
| Weight | 12 oz., Varies by Configuration |
| Environmental Protection | NEMA 4X/IP67 |
| Power | 1 x 3.6V AA Battery (M12 is loop powered 9-36 VDC.) |
| Battery Life | 5 Years Minimum in Continuous Mode |
| Electronic Display Temperature Limit | If the temperature of the electronics in the display housing exceeds 122°F (50°C), permanent damage to the display will occur. A remote mount is recommended for high or low temperature applications. |
Table 1: Display Resolution
Model
Range
Decimal Point
Standard Temp,
Displays Decimal
-58°F to 392°F
(-50°C to 200°C )
Yes
Extended Temp,
No Decimal
-328°F to 1112°F
(-200°C to 600°C)
No