Reotemp plays a pivotal role in supporting the fluid power industrial market by providing reliable and customized pressure and temperature instrumentation solutions. We offer a wide range of high-quality products specifically designed to meet the unique needs of the fluid power industry. Our dependable and precise temperature and pressure gauges, thermocouples, and RTDs (Resistance Temperature Detectors) ensure accurate measurement and monitoring within hydraulic systems, pneumatic applications, and other fluid power equipment. By providing reliable instrumentation, we enable fluid power operators to optimize performance, enhance efficiency, and prevent costly downtime. Additionally, our commitment to superior customer service and customization capabilities allows us to collaborate closely with clients, tailoring solutions to their exact requirements.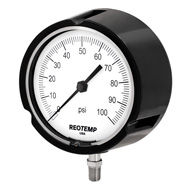 Gearless Direct Drive Gauge 
Series

PGL

Dial Size

2.5 to 4.5″

Accuracy

+/- 0.5% Grade 2A

Ranges

0 to 300 psi

Material
Tube: Inconel X-750, Silver Brazed​
Socket: 316SS ​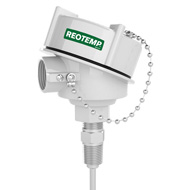 A large selection of RTD Head Assemblies featuring explosion proof, corrosion resistant, LED Display, and many other head options. Can be configured with a HART or 4-20 mA transmitter.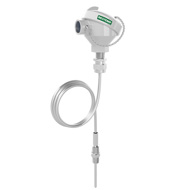 Remote Mount Head Assembly
Allows the customer to move the head away from a hot process or to a more convenient location. With options such as explosion proof heads, armored capillary, and LED displays, and transmitters.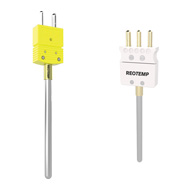 Stem Assembly with Plug Connection
Allows for quick connection and disconnection. Standard plugs (round pins) and mini plugs (flat pins) are available.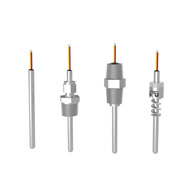 Stem Assembly with Plain Leads
Typically used to hook up to a transmitter or terminal block close to the location of the stem.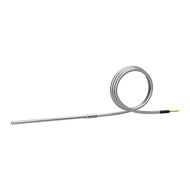 Stem Assembly with Transition
Highly customizable with Transitions for a wide variety of industrial applications.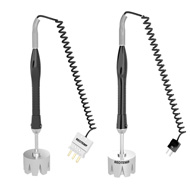 Allows you to spot check a hot process pipe (ferrous metal only) quickly and easily. The sensor is spring loaded to ensure a direct contact with the process pipe.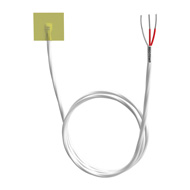 Surface Mount (Stick On) Probe
Mounts on flat or curved surfaces. Can be customized for use in a wide variety of applications. Easy application using a self-adhesive backing.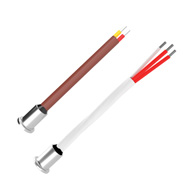 Used to monitor the temperature of bearings in turbines, compressors, generators and motors. Embedded in the bearing shoe, close to the bearing surface.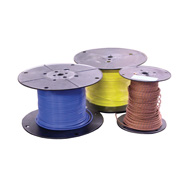 Bulk thermocouple wire is offered in both thermocouple grades and extension grades with multiple insulation options. Bulk RTD wire options include teflon or fiberglass insulation.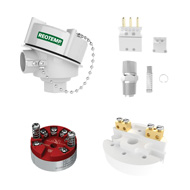 A large selection of RTD and Thermocouple Accessories including: Connection heads, spring loaded kits, plugs &  jacks, transmitters (in-head), clamp sets for plugs, compression fittings, terminal blocks.