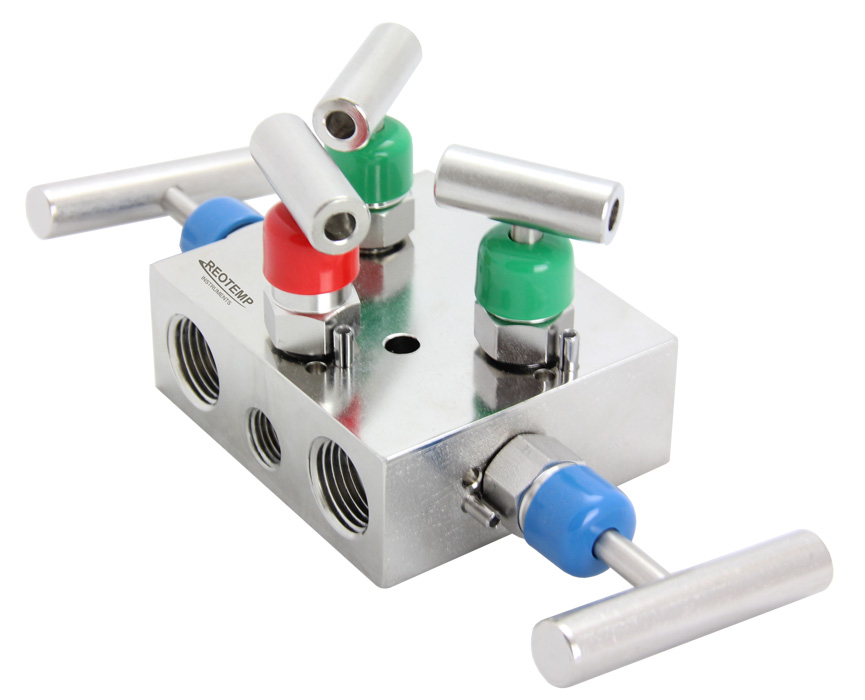 5-VALVE MANIFOLD
REOTEMP's M5 5-Valve Manifold can be mounted to differential pressure gauges as well as differential transmitters. This manifold features two isolation valves, two equalizing valves, and a bleed valve.
FKM O-ring Seal and PTFE Back-up Ring Below the Stem Threads to Protect from Corrosion and Galling; Soft Seat Comes Standard with Delrin Seat
PTFE or Grafoil Packing Optional
All Stems are 316SS
Vinyl Dust Cap for Bonnet & Stem (Non-packing)
Rolled Threads for Strength, Durability, and Ease of Use
All Valves are Helium Leak Tested for Optimal Performance
Optional Angled Equalizing Valves for Ease of Use
Body Material: 316 Stainless Steel, Zinc-nickel Plated Carbon Steel
Pressure Rating: Hard Seat – 10,000 psi at 200°F, Soft Seat – 6,000 psi at 200°F.
Orifice: 0.187"
Flow: Hard Seat CV: 0.44, Soft Seat CV: 0.76
Connections: Available in block, single flange, or double flange connection for remote or direct installation.