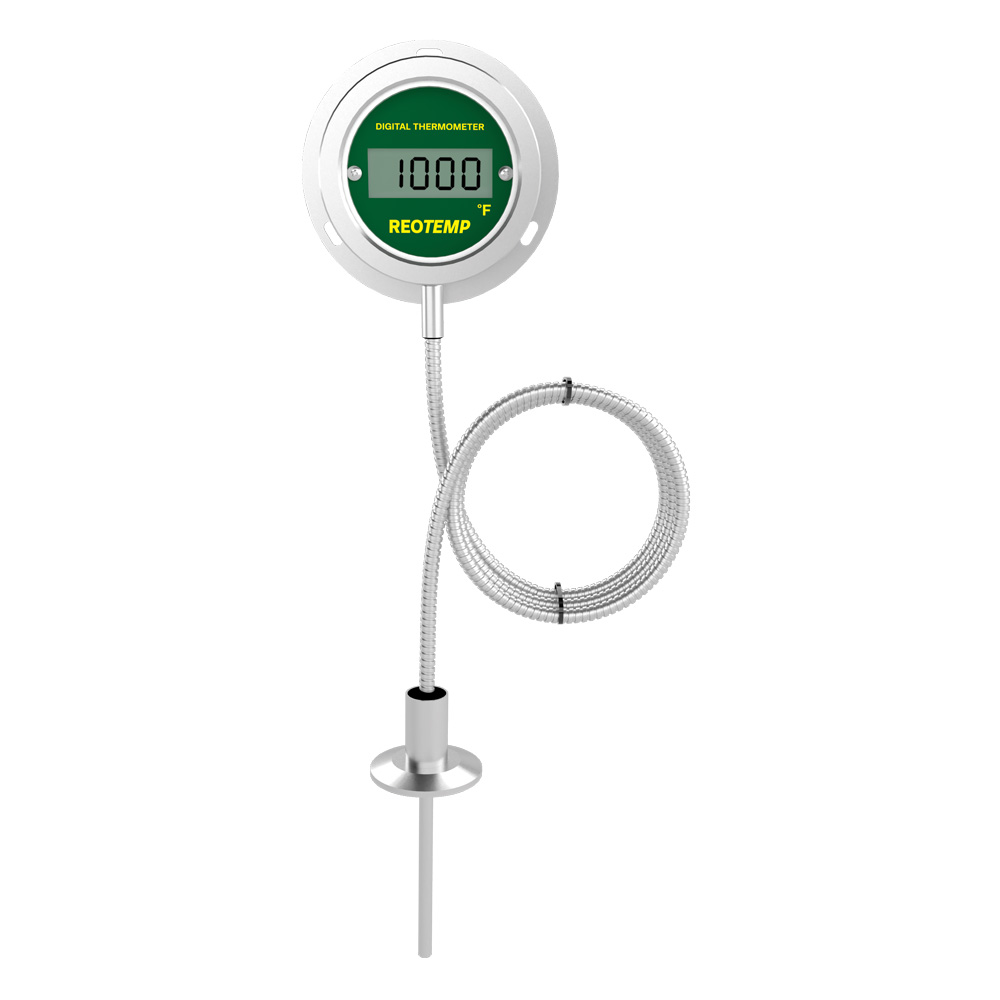 DIGITAL REMOTE READING THERMOMETER WITH SANITARY CONNECTION
Reotemp's Sanitary Remote Digital Thermometer/Transmitter is a high accuracy thermometer with digital display. It features an IP67/NEMA 4X enclosure, clean-in-place connection, and a 5 year battery life (Note: 4-20mA models are loop powered
9-36VDC). The Digital Thermometer is perfect for brewing, food, beverage and pharmaceutical applications where a high accuracy digital readout is required. The remote model is well suited for mounting the display away from a high temperature or hard to reach process.
3-A Conformance Certificate Included
High Accuracy 1,000Ω RTD (Class A)
Water Resistant IP67/NEMA 4X
5 Year Battery Life (4-20mA Models are Loop Powered)
4-20 mA Output Available (Loop Powered 9-36VDC)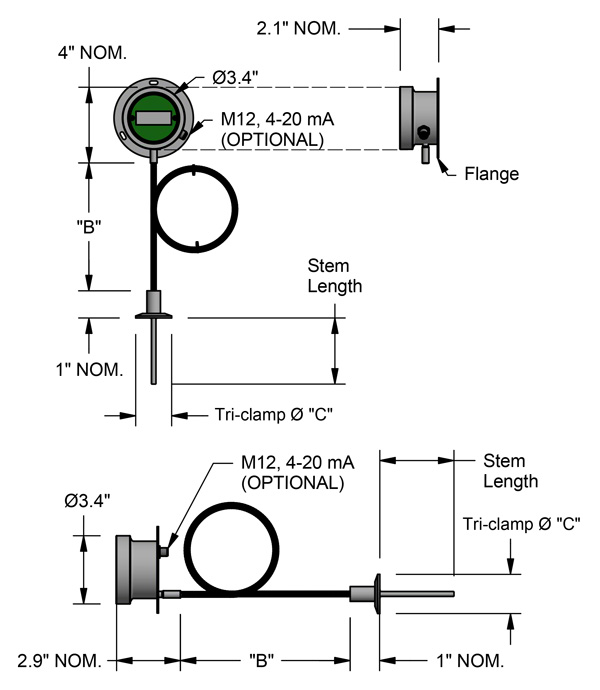 Accuracy
± ( 0.72 + 0.002 x |t-32|) °F,
± ( 0.40 + 0.002 x |t|) °C, t = temperature.
Example: At 32°F accuracy is ± 0.72 °F.
Sensing Element
RTD, Type Pt1000Ω, Class A
Temperature Ranges
-58°F to 392°F (-50°C to 200°C) or -328°F to 1112°F (-200°C to 600°C)
Output (Optional)
4-20 mA, M12 Connector, Loop Powered 9-35 VDC
Refresh Rate
3 Seconds
Display
4-digit LCD, 1/2" Height
Display Resolution
See Table 1
RFI Effect
1% or Less Typical
Temperature Effect
<0.01% FS/°C
Ambient Temperature Range
32°F to 122°F (0°C to 50°C)
Storage Temperature Range
-4°F to 158°F (-20°C to 70°C)
Housing Material
Stainless Steel 316
Lens
Plastic Polycarbonate (Standard) or Glass
Probe Material
304 Stainless Steel
Weight
12 oz., Varies by Configuration
Wetted Finish
Ra 32 max., Ra 20 max. (optional)
Weight
12 oz., Varies by Configuration
Environmental Protection
NEMA 4X/IP67
Power
1 x 3.6V AA Battery (M12 is loop powered 9-36 VDC.)
Battery Life
5 Years Minimum in Continuous Mode, (Note: 4-20mA Models are Loop Powered 9-36 VDC, No Battery Option)
Electronic Display Temperature Limit
If the temperature of the electronics in the display housing exceeds 122°F (50°C), permanent damage to the display will occur. A remote mount is recommended for high temperature applications.
Table 1: Display Resolution
Model
Range
Viewable Range
Standard Temp,
Displays Decimal
-58°F to 392°F
(-50C to 200C )
-58.0 to 392.0
Extended Temp,
No Decimal
-328°F to 1112°F
(-200°C to 600°C)
-328 to 1112