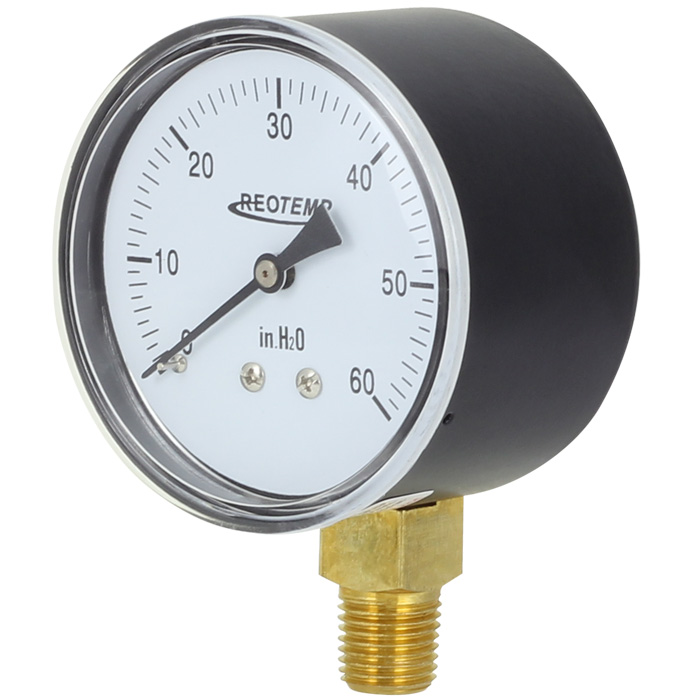 2.5″ GENERAL PURPOSE LOW PRESSURE GAUGE
REOTEMP's Series PC25N2 brass gauges are designed for use in low pressure applications with dry gasses that are compatible with copper alloy. Examples include: exhaust systems and blowers.
Sensitive Diaphragm/Capsule Mechanism
Easy-Access Zero Reset Screw on Dial
Economical Design for Non-Severe Service
ASME B40.100 Design
Construction Materials
Non Wetted
Case: Black Painted Steel
Ring: Snap-In Plastic
Dial: White Aluminum, Black Letters
Wetted
Capsule: Copper Alloy
Socket: Copper Alloy
Case-to-Socket
Screw Connection
Lens
Plastic
Temperature Limits
Ambient
-40°F to 140°F
Process
-40°F to 140°F
Process When Assembled with a Diaphragm Seal
Cannot be mounted to a diaphragm seal.
Accuracy: 3 – 2 – 3%, ASME Grade B
Fillable: No
Restrictor Screw: No
Max Working Pressure: Stable = 100%, Momentary = 130% of scale
Weight: .25 lbs
Download Install Instructions: