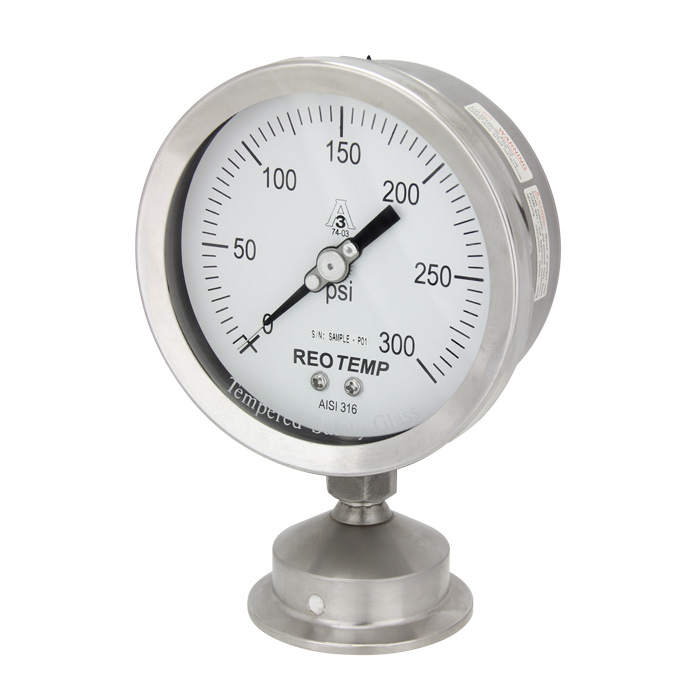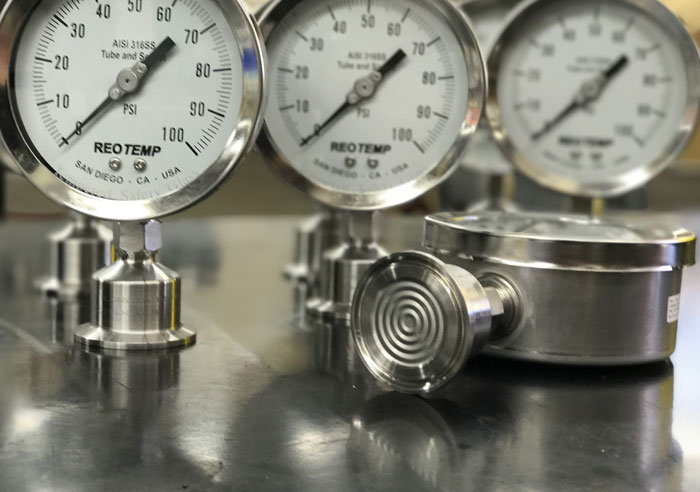 SANITARY PRESSURE GAUGE
REOTEMP's Series SG sanitary gauges are specially designed to exceed the demanding safety requirements of the food, dairy, beverage, pharmaceutical, and biotech applications. All REOTEMP SG series come standard with 3-A certification included.
Quick Connect Tri-Clamp® Design
Fast Removal and Installation of Instruments, to Allow Flushing or Changing the Process Media
Ideal for Clean-in-Place, or Equipment Washdown
Exceeds 3-A Sanitary Standards
Comes Standard with 3-A Certification
All Welded 316SS Tube, Socket, Seal, and Diaphragm
ASME B40.100 Design
Accuracy (1.5″ & Larger
Tri-Clamp)
±1.5% for 100 psi and Above
±2% for Vacuum, Compound and <100 psi
Accuracy (3/4″ Tri-
Clamp)
±2.5% Upscale
±4% Downscale
Ambient Limits
-40°F/150°F* (-40°F/250°F* with Dry
Case and Polysulfone Lens with Weep
Hole)
Process Limits
-40°F/400°F* (-110°F/750°F* Available
with Cooling Tower or Capillary)
Wetted Materials
Body: 316SS
Internal Parts: 316SS
Wetted Surface Finish: 18-24 Ra
Lens
Plastic (Standard), Laminated Safety
Glass, Tempered Safety Glass or
Polysulfone
Other Materials
Case: 304SS
Dial: White Aluminum, Black Letters
Fillable
Yes, All Models Except SG20
Maximum Working
Pressure
Stable = 100%
Momentary = 130% of scale
Environmental
Protection
NEMA 4X/IP65
*3/4″ Tri-clamp changes both ambient and process temp limits to
20°F/150°F.
Tri-Clamp® is a registered trademark of Alpha Laval Inc.