What is a diaphragm seal?
Diaphragm Seals, also referred to as chemical seals, are used in applications where the pressure sensor requires isolation from the process media. These applications may be corrosive, high temp, clogging, or require a sanitary fluid to remain captured in the piping or vessel. Rather than the process fluid interfacing with the pressure sensor, the pressure is exerted onto the flexible diaphragm and transmitted hydraulically to the instrument through the fill fluid. When properly mounted and filled a diaphragm seal assembly will have minimal effect on the instrument's performance.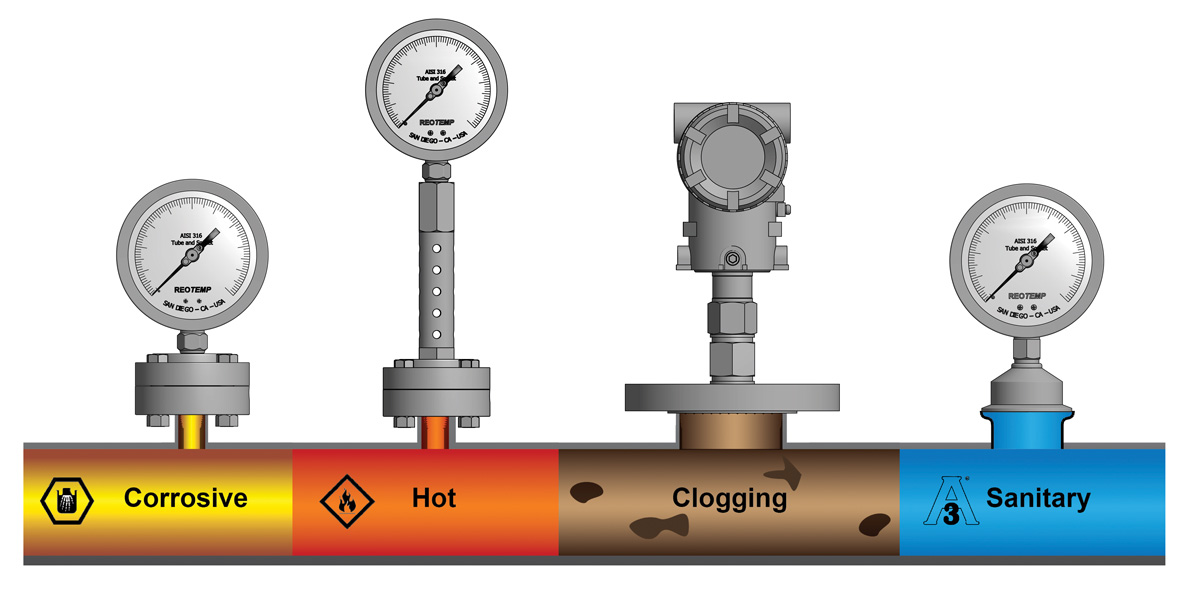 What are the application considerations for diaphragm seals?
REOTEMP Diaphragm Seal Assemblies are carefully designed, built, and tested to maximize performance, increase instrument lifespan, and assure operator safety. The following should be considered when specifying a diaphragm seal:
Instrument Considerations
Is there sufficient displacement to drive through its
full range?
Is the diaphragm sensitive enough for the measuring range and accuracy grade of the instrument?
Diaphragm Seal Mounting
How will the diaphragm seal mount to the process? Threaded? Flanged? Clamped?
How will the instrument mount to the diaphragm seal? Threaded? Welded?
Will the instrument be mounted directly to the seal or
with capillary?
View the Diaphragm Seal Mounting Guide
Process Characteristics
What are the pressure and temperature limits?
Are there issues with clogging or high viscosity?
Is there severe shock and pulsation?
Is the process fluid compatible with the wetted material and gasket?
Ambient Characteristics
Are there extreme or fluctuating ambient temperatures?
Is the outside environment corrosive?
Vacuum Considerations
Will the assembly be operating in deep vacuum (< 5psia)? If yes, contact the factory with process specifications.
Questions?
If you require application assistance, please contact REOTEMP customer service at (800) 648-7737 or your local REOTEMP distributor.
Cooling Towers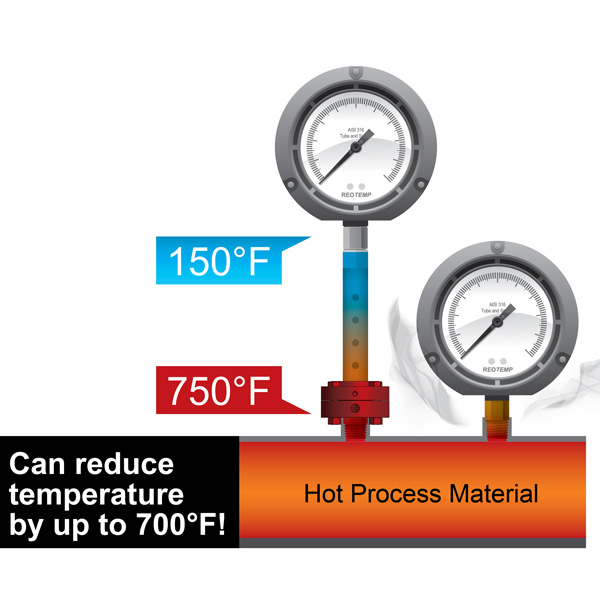 High process temperatures are damaging to pressure instrument performance and could pose an imminent safety risk. REOTEMP cooling towers provide the best option for extending instrument lifespan, improving performance and minimizing safety risk.
Pulation Protection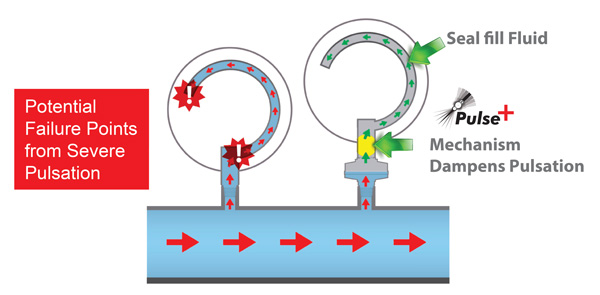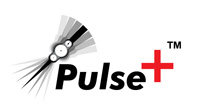 Process media pulsation is one of the most common causes of pressure gauge failure. REOTEMP's proprietary diaphragm seal feature, Pulse Plus™ dramatically reduces the effects of pulsation on mechanical pressure instruments. Specify with option code -PP on most diaphragm seal models when a seal is being mounted to a REOTEMP pressure gauge.